Łukasz Kiraga, International Journal of Molecular Sciences, 2020
Summary                         
Since hemoglobin (Hb) has been rediscovered as a potential drug carrier, present study aimed to explore the possibility of utilizing Hb as a transporter of tumor targeted drugs. Biodistribution of 89Zr labelled Hb was compared in healthy and lung tumor-bearing mice using nanoScan PET/CT. Similar accumulation pattern was detected in both animal model 1h and ~30h after injection.
In this study a new method of radiolabeling Hb was developed that allows its pharmacokinetics to be followed in vivo in dfferent physio/pathological conditions and this is the first bio-imaging report describing Hb tracking by the PET/CT method.
Results from nanoScan PET/CT
DFO (maleimide-deferoxamine bifunctional chelator)-conjugated Hb was labeled with 89Zr. A volume corresponding to ~2 or ~6MBq of radioactive substance was collected from the prepared Hb-DFO-89Zr solution and, once diluted to 50µl with PBS, it was intravenously injected (tail vein) to naïve and lung tumor-bearing female BALB/c mice. PET scans, followed by CT, were performed twice for each mouse, 1h and 30h after injection. Emission data were collected for 30 or 15min. %ID/mL values were calculated in the VOIs.
Results show:
In healthy mice: high intensity signal from liver and low intensity signal from lungs 1h after injection (a); high intensity signal from liver, reduction of signal in the lungs at 30h pi. (b)
In tumor bearing mice: high intensity signal was detected from kidneys and liver, low signal from lungs 1h after injection (c); high intensity signal from kidneys, low signel in the liver and lungs at 39h pi. (d)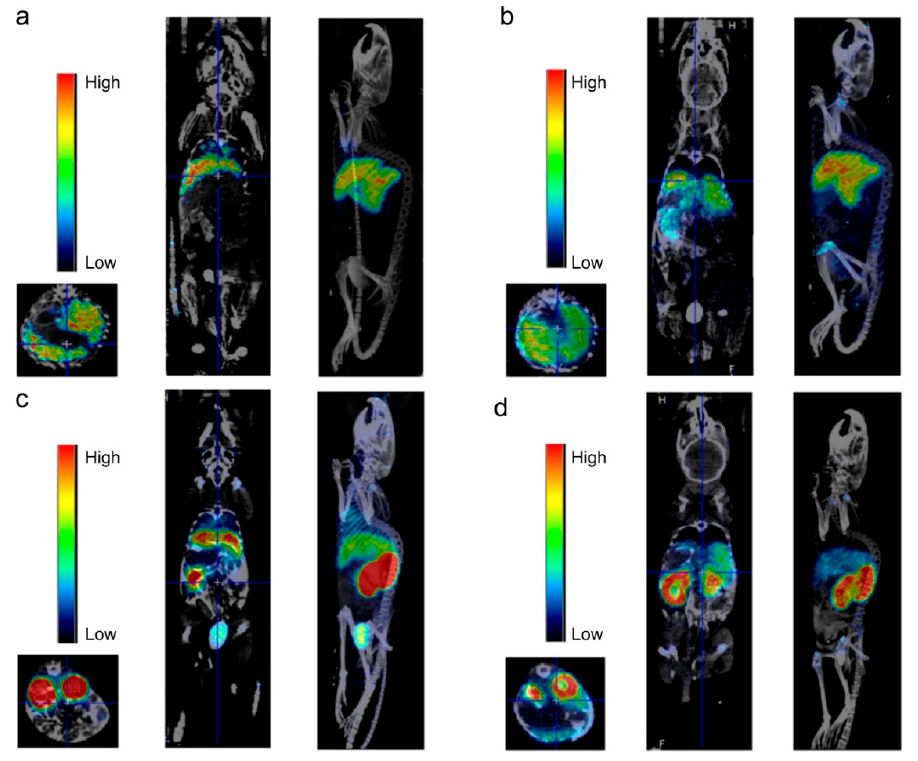 Full article on mdpi.com