Abstract
Targeting MAIT cells holds promise for the treatment of different diseases and infections. We previously showed that treatment of Mycobacterium tuberculosis infected mice with 5-OP-RU, a major antigen for MAIT cells, expands MAIT cells and enhances bacterial control. Here we treated M. tuberculosis infected rhesus macaques with 5-OP-RU intratracheally but found no clinical or microbiological benefit. In fact, after 5-OP-RU treatment MAIT cells did not expand, but rather upregulated PD-1 and lost the ability to produce multiple cytokines, a phenotype resembling T cell exhaustion. Furthermore, we show that vaccination of uninfected macaques with 5-OP-RU+CpG instillation into the lungs also drives MAIT cell dysfunction, and PD-1 blockade during vaccination partly prevents the loss of MAIT cell function without facilitating their expansion. Thus, in rhesus macaques MAIT cells are prone to the loss of effector functions rather than expansion after TCR stimulation in vivo, representing a significant barrier to therapeutically targeting these cells.
Results from MultiScan™ LFER PET/CT
5-OP-RU treatment in Mtb-infected macaques does not enhance control of the infection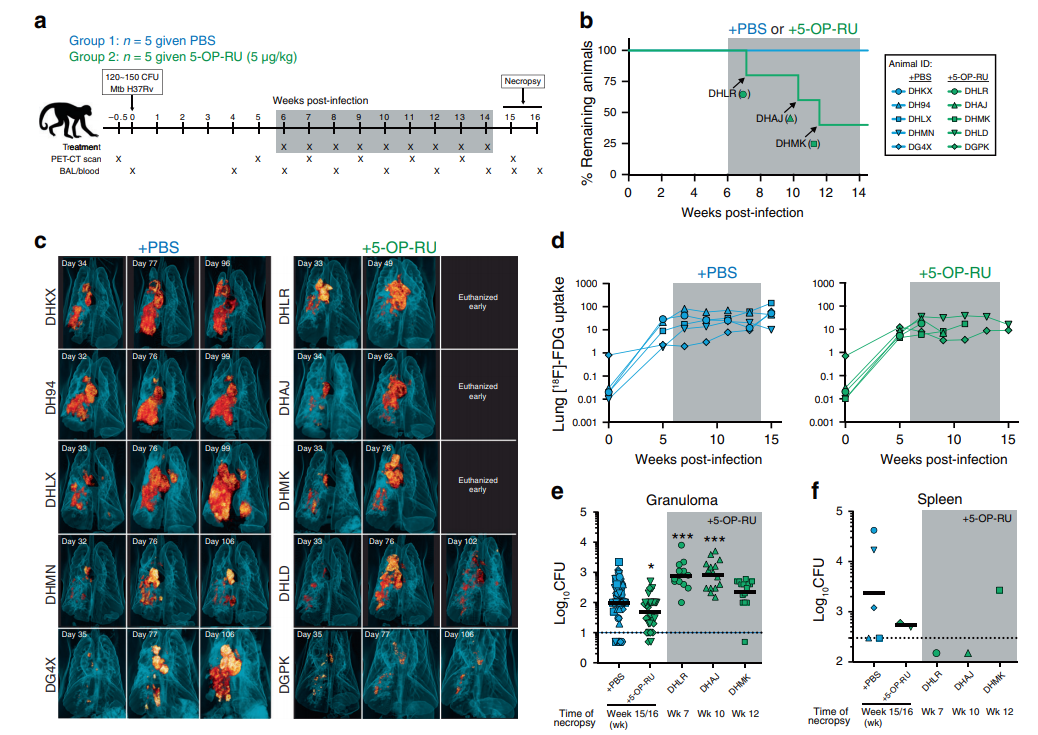 Fig 1 a, Ten animals were infected with 120-150 colony forming units (CFU) of Mtb H37Rv. Starting 6 weeks post-infection, animals were intratracheally treated with PBS (n = 5) or 5-OP-RU (n = 5). Animals were necropsied at weeks 15 or 16 post-infection. b, Percentage of remaining animals in the 2 groups were plotted against the weeks after Mtb infection. Three 5-OP-RU treated animals (DHLR, DHAJ, DHMK) were humanly euthanized early due to the development of severe pulmonary distress. c, Three-dimensional volume renderings of PET/CT scans of each animal at week 5 and 11 post-infection and at necropsy. d, The lung total [18F]-FDG uptake (total lesion glycolysis, TLG) value in PBS (left) and 5-OP-RU treated (right) animals. Bacterial loads in the granulomas (e) and spleens (f) shown in pooled animals by experimental group and individual animals euthanized early. Each symbol represents an individual tissue sample from indicated animal. Dotted line indicates limit of detection. *p < 0.05, ***p < 0.001.
Read the full publication here