Features & Benefits
Dual PET Configuration
Simultaneous or Sequential? The dual PET configuration offers the best performance for all PET/MRI studies
Full-scale PET-ring on the front guarantees unlimited quantitative imaging regardless the amount of radioactivity, acquisition time or animal size.
SiPM-based PET insert ensures simultaneous PET/MRI studies without any interference between the PET and MRI readout.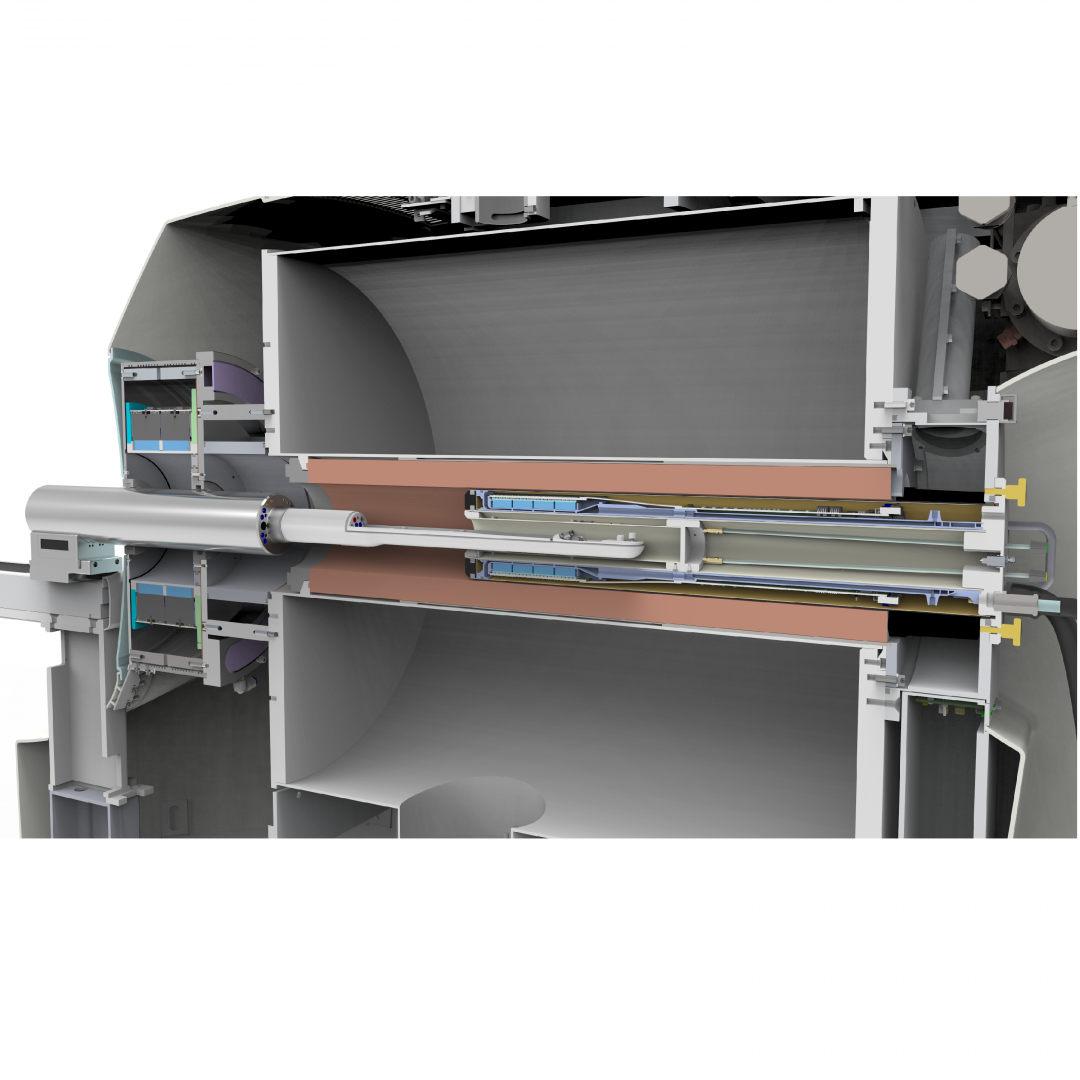 In-line, highest-resolution, large diameter PET-subsystem with widest dynamic range
Well-established, high performance, market leading PET-subsystem identical with the one used in the nanoScan PET/CT-s 
Finest LYSO crystal needles in a large diameter ring and statistical depth of interaction compensation offers highest resolution and homogeneous image quality over the entire field of view
Bore size and transaxial-field-of-view enabling scanning of larger rats or multiple mice in both PET and MRI
Best on the market minimal detectable activity: 60Bq
Inherently optimized for longitudinal studies e.g. long-term cell tacking
Fully quantitative up to 60 MBq and beyond
Optimal for imaging of isotopes with short half-life (e.g. 11C, 13N, 15O etc.)
PET insert offering simultaneous multiparametric imaging
Due to the high level of integration the nanoScan® PET insert offers uncompromised image quality while giving access to a unique way of hibrid imaging by obtaining information from functional, metabolic and physiological processes in a simultaneous manner.  
Simultaneous imaging of total body mouse and rat brain
Providing high resolution and homogeneous image quality over the entire field of view as a result of using the finest LYSO crystal needles and statistical depth of interaction compensation
Removable, allowing access to the full-bore of the MRI and also making benchtop measurements possible
Available as an upgrade for existing PET/MRI 3T, 7T and MRI 3T, 7T installations or as a standalone system
Perfect Integration of PET and MRI
Complete PET/MRI workflow
Innovative gantry design enables perfect animal positioning resulting in accurate co-registered images
Using the rotatable touchscreen it is possible to start dynamic PET or MRI measurements right from the scanner opening. The same touchscreen can be used for easy tuning and matching of Tx/Rx volume coils.
The software suite developed by Mediso offers a complete pipeline from image acquisition, attennuation correction and reconstuction to image fusion and analasys without the need of thrid party softwares.
Ultra low attenuation Brain imaging coils
We designed our brain array coils with special care to achieve the lowest possible attenuation at 511KeV.
Using the 2ch phased array coil excellent contrast can be achieved in the brain region with uncompromised PET performance.
Robust cryogen-free magnet
The core of the nanoScan® MRI systems is the most robust cryogen-free superconducting magnet ever built for preclinical applications. Uniquely on the market it features a back mounted cryocooler to reduce conducted vibrations and make maintenance easier.
The system uses a high-end pulse tube type cryocooler to further minimize vibrations inside the cryostat and therefore deliver ghost free EPI images.
Its base is a NbTi solenoid with multiple corresponding coils to maximize homogeneity and shielding thus reaching state-of-the-art homogeneity of ±0.1 ppm @ 50 mm DSV and negligible fringe field outside the cryostat.
The magnet uses conduction cooling to reach superconducting temperatures therefore the magnet is 100% cryogen-free.
The warm bore tube and other electrically conductive cylindrical parts of the magnet were designed in a way to minimize the residual eddy-currents after strong gradient pulses this way achieving high quality DWI images.
Applications
Diffusion Tensor Imaging at 3T
Single Shot DTI EPI in rat brain at 3T
Animal: Wistar Rat
Sequence: Single Shot DTI EPI, Matrix size: 96x96, Diffusion directions: 120, TH: 1mm
Coil: 72mm Tx/Rx volume coil for transmission and 30mm flexible surface coil for signal reception
18F-FDG Glioma imaging in mouse brain
MRI is currently the gold-standard in glioma imaging, thanks to its capabilities in deliniating structures within soft tissues. Combining with the molecular specificity of PET, the nanoScan® PET/MRI systems are the perfect tool for novel therapeutic and diagnostic strategies for glioma. 
Animal: C56BL/6 mouse (28g)
Tracer: 3.2 MBq (86 µCi) 18F-FDG
Acquisition: T2W FSE 2D, FOV: 32mm x 32mm, TH: 1mm, MRI acq time: ∼5 min, PET acq: dynamic
Coil: Quadrature Tx/Rx volume coil for mouse brain
Multiple animal imaging with PET/MRI 3T
Simultaneous scan of 3 tumor-bearing mice
Animals: BALB/c mice 
Radiotracer: 18F-FDG, 4.87 MBq (131.6 μCi), 4.75 MBq (128.3 μCi) and 5.91 MBq (159.7 μCi)
Acquisition: GRE 3D MultiFOV, MRI acq. time: 18min, NEX: 4, TR: 10ms, TE: 3.1ms, TH: 0.8mm, PET acquisition: static
RF Coil: 72mm Quadrature Tx/Rx volume coil
Fat-water imaging
Fat-water separation based on Multi-Echo Gradient Echo sequence
Animal: Wistar Rat
Sequence: Multi-Echo Gradient Echo, Matrix size: 256x256, FOV: 70mm x 50mm, TH: 1mm, NEX: 2, Acq. time: 10min
Coil: 72mm Tx/Rx volume coil 
Images
Downloads
How can we help you?
Contact us for technical information and / or support related to our products and services.
Get in touch