Vidya Narayanaswami et al., Springer Open EJNMMI Radiopharmacy and Chemistry, 2020
Summary
Clinical importance of 5-HT1A receptors in the pathogenesis of several psychiatric and neurodegenerative disorders has promoted development of carbon-11 and fluorine-18 labeled radiotracers for in vivo positron emission tomography (PET). The gold standard PET imaging agent limited its widespread use. 
The purpose of the current study was to develop and characterize a radioligand with suitable characteristics for imaging 5-HT1A receptors in the brain. The authors have reported the in vitro pharmacological characterization, radiosynthesis and preliminary in vivo PET imaging of three new 5-HT1A receptor arylpiperazine based ligands in rats (DF-100 (1), DF-300 (2) and DF-400 (3)). 
They concluded DF-400 represents a promising O-methylated lead candidate which if subjected to structural alterations, may either lead to improved selectivity for 5-HT1A receptors or may assist in the development of the first PET radioligand for α1-adrenergic receptors. 
Results from nanoScan PET/MRI 3T
Dynamic PET studies in rats demonstrated negligible brain uptake of [11C] DF100 (1) and [11C] DF-300 (2). In contrast, significant brain uptake of [11C] DF400 (3) was observed.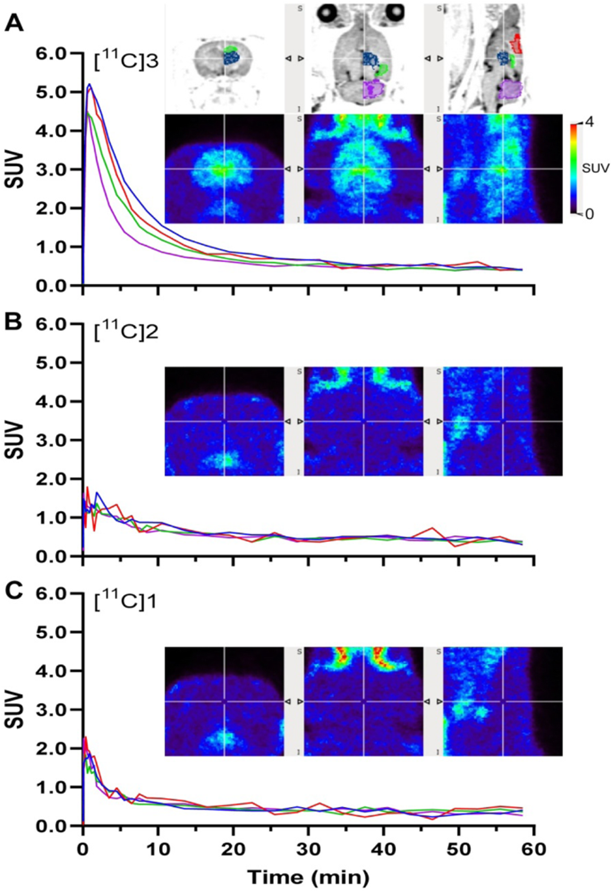 Fig. 2 Uptake of [11C]3 (a); [11C]2 (b) and [11C]1 (c) in rat brain. Shown are TACs averaged for left and right brain (A: n = 3; B and C: n = 1) in SUV and summed (0–60 min) PET images in coronal, transverse and sagittal planes, respectively, through the thalamus. The spatially co-registered MR images (2D fast spin echo) show left-half ROIs including thalamus (blue), anterior cingulate cortex (red), hippocampus (green) and cerebellum (magenta) for the corresponding color-coded TACs
Nevertheless, DF-400 displayed significant off-target binding attributed to α1-adrenergic receptors based on regional distribution (thalamus>hippocampus) and blocking studies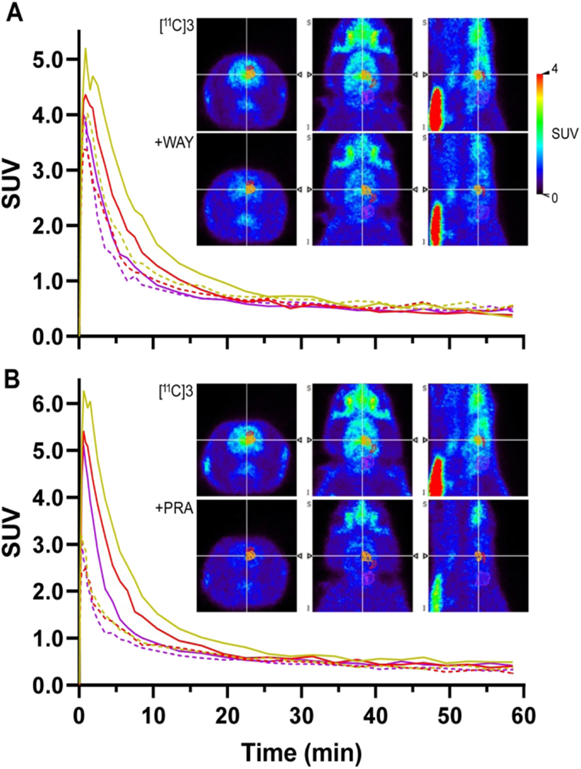 Fig. 2 Blocking of the uptake of [11C]3 in rat brain by WAY-100635 (a) and prazosin (b). Shown are TACs, averaged for left and right brain, (n = 1; solid: baseline; dashed: blocking) in SUV and summed (0–60 min) PET images in coronal, transverse and sagittal planes, respectively, through the thalamus at baseline and under blocking conditions. The three depicted left-half ROIs include thalamus (orange), hippocampus (red) and cerebellum (magenta) for the corresponding color-coded TACs
Article: https://ejnmmipharmchem.springeropen.com/articles/10.1186/s41181-020-00096-8